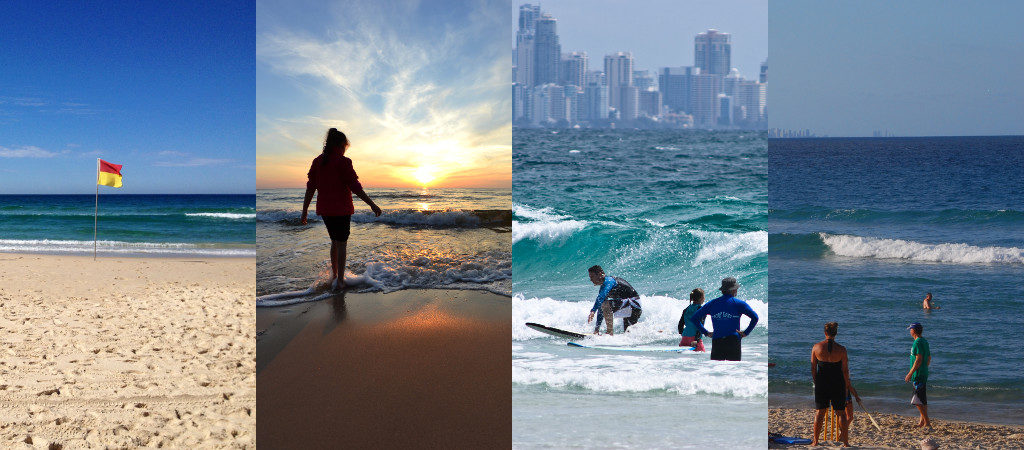 On your airport transfers in Gold Coast, your Express Transfers driver can be a wealth of information about the places to visit in Gold Coast.  One of the main highlights in Gold Coast are the beaches.  From nature lovers to families, and even thrill seekers, we've got a beach for you.
If your transfer from Gold Coast airport is to a destination in the proximity of the airport, you don't have to miss out on a beach.  Here are some options for the business traveller or the short-stay traveller.
Bilinga is a north-facing beach and is favoured amongst novice surfers.  Since it's not too far from Gold Coast Airport and Coolangatta, travellers with limited time often frequent the beach.  Grab your swimsuit and your flip flops or a blanket and book and come on out. Coolangatta has several beaches to choose from – If you're interested in nature, Greenmount Point and Greenmount Beach are ideal.  Being a coastal headland, between June and November, you can catch a glimpse of the Humpback Whale migration.  If you're visiting in August, you may be in luck as the whales travel in both directions. Fishing is also permitted off the rock around Greenmount Hill so you can bring your rod and reel to see what's biting. Greenmount Beach itself is better suited to boardriders that are beginners or have some experience, but if it's a thrill you're seeking, head over to Kirra Beach which is famed for its surf breaks.
If your transfer from Gold Coast airport takes you further out, you could include other beaches that suit you and your travel companions.
For the family –
If you're looking for a fun day at the beach, we've got some great options for you.  Pack the picnic basket, the activities, and the kids, and let's get going. Miami Beach and Nobby Beach have some lovely parks with sheltered picnic areas that are great for a family outing.  The playgrounds and the BBQ's ensure that you'll have plenty to do on an all day excursion.  The suburb has plenty of restaurants and shopping as well, so this is truly a place that has something for everyone. Burleigh Heads Beach is another great spots for picnics and BBQs.  It's less populated than some of the other tourist hotspots in Gold Coast and has a large park that faces the ocean so you're guaranteed some great views while relaxing with the family.  This is a great beach for swimming, but can draw in lots of surfers and spectators when conditions are right for surfing. Mermaid Beach is ideal for a family outing.  It has bike tracks, picnic areas that are sheltered and a children's playground.  The small swell makes it a safe beach for swimming.  
For the surfer –
Gold Coast is a surfer's delight.  From the novice to the uber-experienced, you'll find a beach that more than satisfies your desire. Palm Beach runs from Currumbin Alley to Tallebudgera Creek.  It's 4km long and is north-east facing.  You're likely to catch swells that are 1 to 2 feet but if you're a determined surfer, every few months you may catch four foot waves if there's cyclonic activity offshore.  Palm Beach is also great for strolls along the seawall or cycling or even boogie boarding if you're up for it. Snapper Rocks is famed for the Quiksilver Pro Surfing Competition. The combination of Kirra, Rainbow Bay and Duranbah (D-bah) form the Superbank which draws in the serious surfers.  Head towards Rainbow Bay if the Snapper Rocks are too ambitious for you.  The barrels and beach here are more suited to beginners and intermediate surfers.  Venture to D-bah for some variety and take on the surf and hollow barrels. Currumbin Alley draws in the beginner and advanced surfers.  If you're just starting out, the groyne provides protection from the winds and swells.  Leave the power waves to the advanced surfers.  
For the energetic –
If surfing isn't your thing, but you're still looking to work up a sweat, look no further.  Here are some activities to bring that heart rate up. Surfers Paradise offers a plethora of activities.  Choose from beach volleyball, jetskiing, wake boarding, body boarding, or even just swimming.  Hmm, why choose, try your hand at them all.  This is a great beach that's easily accessible and has lots of dining options too.  If you're missing some equipment, there are plenty of rental shops nearby to ensure that you don't miss out. Kurruwa Beach (Broadbeach) and Pizzey Park (Miami) have volleyball courts.  You can join a game or start one of your own.  Pizzey Park also has a Skate Park with bowls and ramps for all ages and levels of experience.  The boardwalk at Kurruwa Beach is great for rollerblading, cycling, or taking in the view and sunset. Narrowneck Beach is popular with kitesurfers and boogie boarders.  If you're someone who prefers to keep their feet planted on the ground, try your hand at beach cricket or kite flying.  You'll even find the creatives working on their sandcastle building skills at this beach.  
For the nature lover –
If you're looking to combine a beach trip with some back to nature time, here are some great options for you. Currumbin Beach has the added advantage of being near the Currumbin Wildlife Sanctuary.  You can meet with the local Australian wildlife including koalas and kangaroos, also experience the different Australian traditions like a didgeridoo performance by Aboriginal artists or even sheep shearing. Couran Cove is accessible by ferry from the Broadwater.  Located on South Stradbroke Island, there are campsites available that are often frequented by friendly wallabies.  With wetlands, sand dunes, and a rainforest, you'll have every opportunity to get up close and personal with Mother Nature. If swimming isn't whetting your appetite for a marine experience, get ready for a dive.  Beginners can opt for snorkeling or taking an introductory course at Narrowneck Beach, Palm Beach, Kirra Beach, or Mermaid Beach.  The reefs around the Gold Coast have plenty of marine life that will fill you with wonder and awe.  
Airport transfers in Gold Coast just mark the beginning of your exciting adventure.  Be sure to look for posted signs with beach regulations and swim between the flags.  Bring lots of sunscreen and have a great time.
today to book your private transfer from Gold Coast Airport or a trip to the beach.
Author Bio:
Express Transfers is a private taxi transfers company established in Gold Coast, Queensland. Our transfer services include professional and reliable Gold Coast Airport Transfers and Brisbane airport transport. We offer personalised service by providing private transfers, at the time that you choose and travel directly to your destination. From airport transfers, travel to meeting places and tourist destinations, we do it all. All of our prices are inclusive of airport and motorway tolls, and you can pay online or pay the driver if you wish.